Looking for the most comfortable bras for seniors? Read our guide for 10 recommendations that are not only comfortable but also fit well and are affordable.
As we grow older, our bodies go through a number of changes. Sagging skin, weak bones, changes in posture, and age-related disorders, such as osteoporosis and arthritis, are part and parcel of senior life.
As old age approaches, our muscles become soft and can no longer effectively support a lot of weight. As a result, the breasts and skin can start sagging. When the breasts sag, we may start feeling pain on our necks or back.
To ease the pain caused by sagging, it's important to wear supportive bras designed for seniors. The bras should also be comfortable.
Seniors with age-related ailments, such as arthritis, may experience pain when moving their legs or arms. Therefore, they need bras that are easy to wear. These bras should also be made of breathable fabric and have larger straps to provide support on the shoulders.
Read on for recommendations of the most comfortable bras for senior citizens.
9 Most Comfortable Bras for Seniors
If you are short on time, watch this video that highlights the most comfortable bras for elderly women.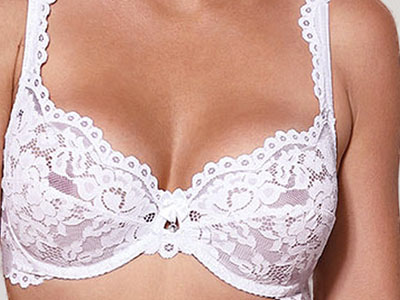 BUY ON BRABBLY
The Roza Newia Soft Cup Bra is made from a blend of  Nylon (90%) and Spandex (10%).  The bra is soft, stretchy, and the material will protect you against UV rays.
The soft cup bra provides adequate support and comes in four different colors (white, red, black, and ivory). This well-stitched bra is excellent for everyday wear. The bra has no underwire for your comfort.
BUY ON AMAZON
The Carole Martin Comfort Bra is wireless and has front hooks. Therefore, it is easy to put on and remove, which makes it an excellent choice for women with dexterity problems. The bra has large straps that support the breasts and the back.
This comfortable bra for seniors is made of a flexible, silky nylon-spandex material that is soft on the skin. The materials are sturdy enough to lift the breasts.
The bra has comes in various cup sizes, including B, C, D, and DD. Therefore, it will be great for full figured women.
This bra is sold in a package comprising of three different colors: black, beige, and white.
BUY ON AMAZON
Another delicate and comfortable bra for elderly women is the Playtex Women's Full-Coverage Bra. The underthing is made of a fashionable mesh material that is breathable. Therefore, you won't get hot and sweaty while wearing it.
This front-closure bra for older women has wide hooks that make it easy to put on or take off. The bra's straps have wide, soft padding that feel nice on the shoulders and can be adjusted to fit properly.
Customers on Amazon have consistently rated this Playtex lingerie as one of the most comfortable bras for seniors.
BUY ON AMAZON
The Bali Double Support Bra is made of silky jacquard fabric, has adjustable straps on the front and a rear clasp. For seniors, comfort and support are critical in a bra than any other feature. This bra has both of these features,
The lack of an underwire prevents any discomfort when wearing the bra.
BUY ON AMAZON
The N Naansi is a wireless cotton bra that is recommended for seniors. N Naasi is one of the best bra brands for seniors.
This bra is made of soft Egyptian cotton and has an easy back hook fastening. The cups are filled to prevent the breasts from being irritated. Despite the absence of an underwire, the bra provides adequate support and lift to the breasts.
However, this bra is only available in B cup sizes. Therefore, if you have larger breasts, you might want to look for another option.
BUY ON AMAZON
The Warner's No-dig Wire-free Bra has a wide band, which make it one of the most comfortable bras for seniors. The bra has an open back hook-and-eye option and snaps on the front for easily adjusting the straps.
The bra is made from high-quality nylon and has comes in the classic bra design. Moreover, it is available in a wide range of colors and sizes to choose from.
BUY ON AMAZON
The Leading Lady Women's Plus Size Bra is an ideal front hook bra for seniors. The bra has a leotard back and other features that aid with support and posture.
The bra is made of stretchable nylon and spandex. This mesh of materials ensures a comfortable fit. The bra has a scalloped lace accent and a stylish zig-zag weave pattern.
The front closing hooks make this one of the best easy bras for seniors to wear.
BUY ON AMAZON
Pull-on bras with a V-neck are also comfortable for seniors. The Prettywell Comfort Bra is made of breathable and comfy material that will make you feel as if you're not wearing anything at all. The material absorbs moisture to ensure you remain sweat-free all the time.
This wireless bra has removable padding and its straps are adjustable. This bra is excellent for older ladies with saggy breasts save for the thin straps. For even more comfortable options, check the best bra vests for elderly women.
BUY ON AMAZON
Also making it on our list of the most comfortable bras for seniors is the Breast Nest Bra. If you want your breasts lifted and supported, this bra is for you. Its great fit makes it suitable for wearing when sleeping or exercising.
The bra is made of a soft, moisture-wicking modal fabric. Therefore, it is perfect for wearing in the summer or if you're experiencing menopause-related hot flashes. The flexible bra fits well and does not irritate the skin. Therefore, it is recommended for seniors with sensitive skin or those that are recuperating after surgery.
The bra is available in two styles: one that resembles a bra and the other that resembles a camisole. Both styles come in a simple pull-on form that makes them easy to wear. However, before buying, confirm your bra size against the size chart offered on Amazon to find the right fit.
BUY ON AMAZON
The Fruit of the Loom Women's Seamless Pullover Bra is one of the most comfortable bras for seniors. The pullover design makes it easy to wear. This bra features a wide racer style back and is supportive both on the front and back.
This supportive bra for drooping breasts is made of breathable, elastic nylon and spandex fabric. It is also padded to fit the breasts well and give them some lift. Its ribbed knit construction ensures adequate support to the breasts, making it a must-have bra for elderly women.
Conclusion
It is critical to consider the comfort and support of a bra when looking to buy one for elderly women. Majority of older women have sagging breasts. Therefore, the best bra for them would be one that provides some lift and is comfortable.
To find the most comfortable bras for seniors, you should check the sizing chart of the manufacturer. This will help you know whether the bras you want to buy tend to run small or shrink after washing.
Also, consider is the bra's closure. Generally, seniors with weak hands will do well with front closure bras. These bras are easy to wear and remove.
The above are 9 of the most comfortable bras for seniors. These bras are supportive, breathable and even come in a wide range of colors to match your wardrobe. Our top pick is the Roza Newia Soft Cup Bra. While wireless, the bra is made of sturdy supportive material that provides lift and is comfortable on the skin.
[wps_separator style="default" top="yes" text="Top" separator_color="#511c00″ link_color="#511c00″ size="2″ margin="15″][wps_icon_list icon="hand-o-right" title="Editor's Recommended Articles" align="left" color="#511c00″ size="50″]
Best Bras for Women Over 50
Best Bra Vests for Elderly Women (Seniors)
Best Bra for Elderly Women (Seniors)
[/wps_icon_list]